Magento ERP.
Best-of-breed Magento ERP integration for near instant synchronization across all your sales channels.
Start your free trial
Connect all your sales channels seamlessly, in a single system.
Eliminate double selling and stock outs with our Magento ERP. It automatically updates inventory levels and reorder statuses not just for your Magento store, but all your sales channels.
Speed up order processing.
With our Magento integration you can manage orders across all your sales channels from a central hub that's fully integrated with your warehouse and shipping systems. That means getting your orders out faster and more accurately.
Enhance customer service.
Brightpearl's Magento ERP gives you and your employees real-time access to customer information, including order statuses, complete history and contact information – everything you need to coordinate and personalize your customer messaging.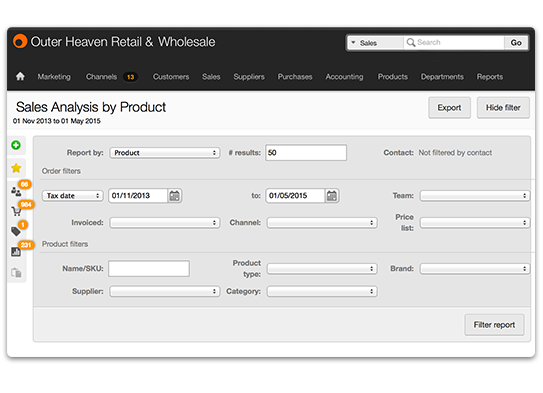 Rely on real time reporting.
Gain instant insight into the profitability of all your products, customers and sales channels. Brightpearl's Magento ERP system integrates with your order management, CRM system, accounting and more.
"We have grown 280% in the last 12 months and we expect to continue growing in the future. We use Brightpearl every minute of every day; it has become invaluable to our business processes"
Gareth Lucas, Blue Web Retail
Read More
More than just Magento ERP software.
As a fully integrated cloud-based retail management system Brightpearl offers you a lot more than just Magento ERP.